AMAZING MEETING IN THE UK
In September, I had the opportunity to sit down with Scott Clarke, the Head of Community and Global Partnerships for the Leicester Tigers organization.  We had first met back in October 2015 when Scott was in town visiting Tim Brown and the Mother's Rugby Club at Mary Washington University.   Scott was responsible for the incorporation of the Leicester Tigers Foundation, of which he is a Trustee. The Foundation utilizes the strength of the Leicester Tigers name and the power of Sport to further extend the positive impact Sport can deliver to those with the highest level of need across core areas around disability in sport, community cohesion, Health and Wellbeing, Education and Charities.
When we first met, he told me about how the professional Tigers Rugby TEAM is just a part of the Leicester Tigers Rugby organization and that their Leicester Tigers FOUNDATION embodies the true heart of the overall organization.  He was in the US scouting potential locations for a Tigers Foundation US presence.   I told him about our Common Ground project, which, at the time, was in it's early stages of development and we talked about how rugby could fit into the plan.  I heard back from him several weeks later that our project most closely matched their mission so, IF we get the ground, we've got the Tigers.  We've kept in sporadic touch over the past 3 years as the project evolved into the remarkable Common Ground plan you're following now.
Fast forward to 2018 and I'm heading to the UK for a family visit/vacation/business meeting trip.  I reach out to Scott to see if I can pop by and give him an update in person.  He agreed so on September 13, Bill, my all-suffering husband and I made the 2+ hour drive to Leicester, England.  It was a visit that changed the way I thought about Rugby and opened my eyes to the amazing possibilities an association with The Leicester Tigers Foundation would bring to our little corner of Virginia.rea has been erected directly across the field.  Just like at any major US Football stadium, there are concession stands, souvenir sellers and a huge glass case filled with the trophies for major UK league – and since it's rugby – world championships.  They have silver trophy cups on display that were nearly as tall as I am.
Scott gave us the VIP tour of their stadium from the concession stands to the team locker rooms, the officials changing room, the press box and the corporate offices.   The original 1920's vintage stands have been preserved as it's an old fan favorite although a fancy new seating a
Along the way, we ran into (no, not with the car) a gentleman hurrying through the stadium in a suit and carrying an armful of papers all akimbo.  We were introduced to Digby, Lord Jones of Birmingham, a lawyer, member of the House of Lords and Minister of State for Trade and Investment.  He is also a member of the Tigers Board of Directors.  Lord Digby has been to Virginia and is a big fan of the Richmond area.  He was quite encouraging when we said we wanted to bring the Tigers rugby & education program to our state.
Something that Bill found particularly meaningful was the wall of fame in the lower level of the old stands.  There they display a timeline of the Tigers organization from its inception in the late 1880s to the present, through text and large photographs.  As Scott explained each panel, Bill was struck with how much of a family this team is.  In one panel, Scott pointed out two brothers on the team, on the next it was one of their grandsons and a little later another set of family members.  "This is why it's a 'club' not just a 'team', he said.
Currently, they've established a disabilities team with wheelchair athletes and even more ambitious, a mixed abilities team with special needs, disabled and fully abled players, working together as a playing unit.  It was absolutely amazing.  Even more amazing is the mission of the foundation, which couples the discipline of rugby training and inclusion of being a team member with serious academic studies.  Across the world, the foundation brings young people into their program of half day rugby – half day academics to develop both mind and body while instilling a sense of cooperation and compassion for others.  THIS is what we want to start to Virginia and Scott is ready to bring it.  All we need is the ground, preferably a flat piece, he suggested.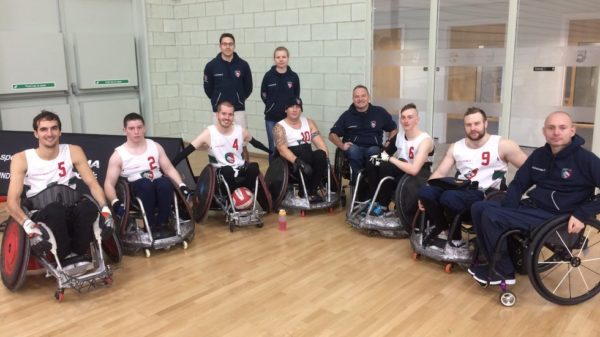 It was a wonderful visit and I came away with a husband totally awed by the whole Tigers group, a bright red Tigers tee shirt, a Leicester Tigers medal and the assurance that if we build it, they will come.  So let's get to it!
We're in the annual giving season and we really need your help.  The PEA has found a terrific property with owners who are excited to work with us but we don't want to lose it for lack of funding.  Please consider making a recurring donation of $25/month to help us get this project off the ground quickly.
To find out more, visit the following websites
https://www.leicestertigers.com/
https://www.leicestertigers.com/community/foundation