Dear Readers,
Sorry this has taken so long but a lot has been going on in PEA land. Here's the second part of our Camphill visit from February
Previously, we introduced the Camphill Movement and started the story of our brutally cold visit to Camphill Kimberton Hills, Beaver Farm and Soltane, Phoenixville. The Special Needs mission component to the Common Ground project started out with all sincerity and lofty goals but lacked the detailed focus necessary to carry it out. When we discovered the Camphill Movement, we realized that it was a near-perfect match to our own vision. The visits to these communities provided validation to our
vision. No need to reinvent the wheel. The people we met will provide the guidance and support we need as we move forward.
Community Industry:
Camphill Communities are designed to be self-sustaining and as green as possible which is a concept shared by Common Ground. There are massive grounds including a large herb garden and many fields for growing produce and feed for the animals (although it was all under a blanket of snow when we were there.) The greenhouses at Beaver Farm were full of
plants, harvested all winter long. Herbs grown at Kimberton Hills are used fresh in season or dried and sold both as herbs and blended into teas. The herb room where the herbs are sorted, cleaned and dried was a total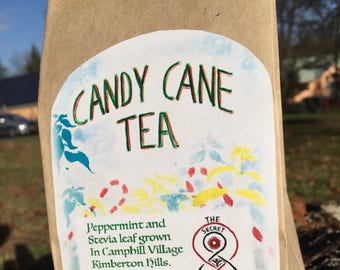 olfactory delight. Not only was food produced on site used to feed those who live and work there, it was used to make the salads, soups, stews and breads used in the public café, the coffee shop in Phoenixville and sold by a local Whole Foods and in a number of other restaurants, groceries and shops in neighboring towns. At Beaver Farm, they raise chickens, sheep, cattle and pigs. They also grow and process spelt for use in the Kimberton bakery. Kimberton's barn is for the dairy cows.
That bakery is quite an operation. They churn out hundreds of loaves of artisan breads every day and the smell there is intoxicating. The bread is used for delicious sandwiches in the café and you can also buy whole loaves. There is also an apiary that provides both pollinators for the gardens and honey for that nice, warm bread.
The coffee shop in Phoenixville had a display case filled with the most delectable baked goods and, judging from the tables full of townsfolk enjoying coffee and goodies, they're a big hit. At Beaver Farm, a local inventor created a machine to process the harvested spelt into useable grain with the chaff used for chicken bedding. His machines, showing the evolution of the technology are all above the chicken roost at Beaver Farm and were also adapted for a variety of motor abilities.
The artisan studios were all well-equipped. In the pottery studio, the barns and elsewhere, tools had been adapted so people with fine motor challenges could still participate in the activities. These goods can be purchased from the Etsy on-line site or from the gift shops at each community and also in town at various boutiques.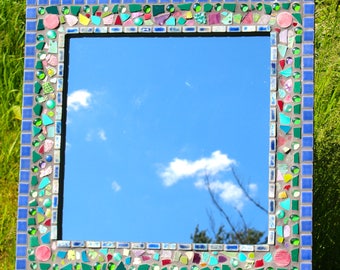 We saw 2 different ceramics workshops, one where they made pottery and another where they made tiles and then used them in stunning mosaics.
Products produced in one place on campus were used elsewhere. Spring greens grown in the greenhouses were turned into salads in the café and dining room. The little ceramic butter pats, bud vases and other table pieces in the café were produced in the pottery shop. Rugs and placemats woven in the weaving studio were not only sold in the Kimberton gift shop and Phoenixville boutique but used on site.
The weaving studio is amazing. We were given an in-depth tour of the weaving studio by Charlene, one of the friends and a master weaver. Each loom – and there are many – is set up for a specific weavers interest and abilities. Mary weaves with yarns not much bigger than thread and creates the most delicate fabric. It's flawless and nearly transparent.
Another loom is set up for a more complex patterned weave while still another is specifically for Bill, who likes to really put himself into his work. With gusto. He weaves rugs using a heavy warp and strips of denim cut from used jeans.
With this broad range of items produced in these communities, more than the local boutique and gift shops are needed for sales outlets. To that end, the communities have created an on-line presence with Etsy shops. The residents not only make the goods but pack and ship them all over the world.
Beaver Farm is actually a transitional program for young people 18 to 21 who could technically still be in the public school system but are able to attend this program. The goal is to move people gently from the sheltered, classroom environment to a more adult lifestyle but within their individual
abilities. It's mainly an biodynamic/organic agricultural operation although they also had a lovely pottery studio where some pretty astounding products were made. Along with the massive greenhouses and fields, they keep bees and harvest the honey. Next to the pottery studio is a fiber arts room where large needle felting projects happen. We toured the barn on a bitter cold afternoon and found the students were working hard with all the animals.

Since the barn housed quite a few sheep, I suspect their wool was being processed here as well. They have a lot of laying hens and distribute the eggs along with the honey and garden produce to other communities as well as commercial kitchens in the area. Some things are even sold at the local Whole Foods.
We wrapped up our day in Phoenixville – a perfect place for this group- where we saw 3 of the commercial operations on the main street where the Soltane friends are employed. The Soltane community has recently
partnered with Parzival to create a coffe shop, a boutique and a community art space in town with the idea that the friends are more mainstreamed into the community One thing we did not get to but will definitely return to see is their community kitchen operation. The Executive Director, Adrian Bowden, explained that the kitchen was designed as both a training facility and a place to feed people. They tried out a "No Pay Tuesday" idea where instead of purchasing your meal with cash, you paid in either donated supplies or your time and skills. This was so successful that they've expanded the plan to other days. Not only is this kitchen providing food and educational opportunities for the people of Phoenixville, it has inadvertently supported the local homeless community by providing a place where they can work for their meals.
Leisure Activities:
Music, plays, stories and dance are a big part of recreational activities at these residential communities. Felicity actually teaches a form of dance that converts to movement the words in the music. It's more than that but this is the best description I can give. Kimberton holds festivals and celebrations open to the general public with music, food, dancing, games and lots of fun. Erin said with a huge smile, "We celebrate EVERYTHING."
The communities gather together constantly after work is done to discuss the day, reconnect and to sort out issues. They have guests come in from time to time to provide an entertainment or a program for the residents. Plays are produced by and for the community and surrounding area.
Like any other neighborhood, there are sports, music lessons, hiking, movies and BBQs.
Everyone at Kimberton, Soltane and Beaver Farm has a job and they work hard at these occupations. They also play hard and there is no limit to the ways they find to have fun. Later this month, the Kimberton Hills community is joining people around the world in celebrating UNESCO's International Jazz Day with a visiting Jazz pianist and the Camphill
Kimberton Hills Orchestra. There are deep friendships and a sense of accomplishment that pervade each. And they celebrate those achievements with great joy.
Call to Action
This is not a unique notion for our area but there are very few actual mixed ability communities to serve the special needs population in our area. The February 13, 2019 Washington Post Metro Section featured a wonderful article about how the Rockville Town Center has created a facility that will "allow adults with disabilities to be integrated among the more able." It's about one woman's campaign to find suitable housing for adults with intellectual and developmental disabilities to live alongside others in the community. This residence was accomplished by rallying interested parties in a rather wealthy part of the DC Metropolitan area to raise the necessary funds. It's the sort of thing we want to create on Common Ground but in a rural setting where our park visitors and our residents can come together to learn, have fun and appreciate in the beauty of the world around us.
The PEA has found the perfect property. It could be put to use within just a few weeks of acquisition. The price tag is $2 mil. Now we need the funds to make it happen. Please consider a recurring donation of just $20 a month to the Phoenix Event Alliance. If only 100 people sign up for such a donation, we will have the proof of income to secure a loan. Let's join together like they did up in Rockville and make Common Ground a model park and community.