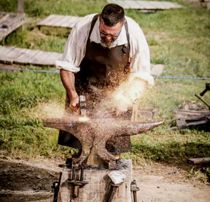 Folk Arts School
The folk art school will teach many skilled crafts
Starting with a Blacksmith forge, the folk art school will bring in artisans to share their knowledge of skilled hand crafting in wood, metal, glass, fibers just to name a few.  The results of their efforts will be on display throughout the park from door hinges to decorative garden sculptures.  Students will have the opportunity to study with guest artisans and display and sell their wares.
The Festival Village will house the Virginia Renaissance Faire
The Equestrian Center will hold indoor and outdoor arenas, and a joust tilt yard
Our site will house large stages and outdoor amphitheaters, hosting dramas, concerts, comedy and more!